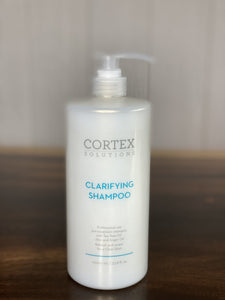 CORTEX SOLUTIONS CLARIFYING SHAMPOO
This is by far, one of our favorite products. Technically, it is a clarifying shampoo, which means that it is designed to cleanse your hair and scalp of build-up from styling products and chemical services. It also helps in the opening of hair cuticles, so that colors, straightening solutions, perms and keratin treatment services permeate faster.
The difference between Cortex and other clarifying shampoos is that it will not dry your hair out! Why does it apply and feel like a conditioner? It is infused with Tea Tree Oil, Aloe and Argan Oil, you can easily replace this shampoo with your regular shampoo and enjoy clean refreshing hair that still feels amazingly soft and looks incredibly glossy!