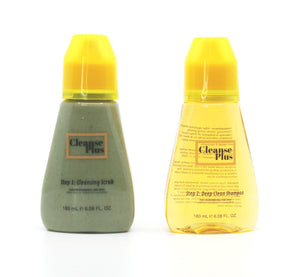 Cleanse plus step 1 & 2
Cleanse Plus is the world's most superior hairpiece adhesive remover. These concentrated solutions are specially formulated to remove and clean all adhesive from your hairpiece and scalp to ensure an easy and comfortable re-application. This is the only adhesive remover that eliminates adhesive without bringing up your natural oils to the surface of your skin.
Step 1(Cleansing Scrub): The cleansing scrub gently removes and breaks down the adhesive from your hairpiece and scalp.  
Step 2 (Deep clean shampoo): This purifying shampoo removes any remaining residue and cleans the hairpiece and scalp thoroughly.

Elevate your hairpiece routine with Cleanse Plus today!